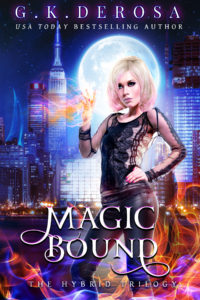 After almost a year since I published a new book, I'm so excited to announce that Magic Bound is here! And it's only 99 cents for a limited time. Don't miss out on your chance to get it at such a great price! Buy it now!
Dying isn't the worst thing that could happen at seventeen, right?
Growing up on the streets of New York City, I imagined my death probably about a thousand times. Getting hit by a stray bullet, ticking off an angry drunk, or even stepping off the sidewalk too quickly and getting run over by a yellow cab. But this… this was something I would never have imagined, not in a million years.
I'm Aria Negrescu, and my name is pretty much the only thing in my life that turned out to be true. I was the poor little orphan girl who grew up bouncing around from foster home to foster home, each worse than the one before.
But all of that changed one night when I met him.
Now an unstoppable hunter wants to kill me, and if I'm going to survive I have to discover who I really am. And that means trusting a mysterious stranger I know nothing about. A whole supernatural world exists right under my nose, and I'm about to become a part of it. Whether I like it or not.